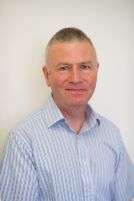 Adrian Wilson draws on 25 years experience of many project and line-management roles in both military and civilian environments. He is an experienced consultant in project management and is also an accomplished educator and accredited PRINCE2® Practitioner and trainer. He has excellent business skills developed in many client-facing environments, both within the public and private sectors. He holds an MSc in Design of Information Systems, is a Chartered Engineer and is a Fellow of the Association for Project Management.
Key Achievements:
Consultancy: engagements included general project management consultancy, running project initiation workshops, health checks, setting-up governance arrangements, project manager coaching, process improvement and acting as an interim project manager.
Training: teaching project management to business and technical clientele. Undertook training needs analysis, course design and tailoring material for both tutor-led and distance leaning courses. Managed a team of accredited trainers and instructed the APMP qualification, PRINCE2 and taught on the Middlesex University MSc.
Professional Services: managed the professional services for 3Com UK & Ireland. Managed 20 staff across departments which included project management, network design, and installation; managed the delivery of solutions and pre-sales support. Projects practice manager for the European HQ running a number of project country teams spread across Europe.